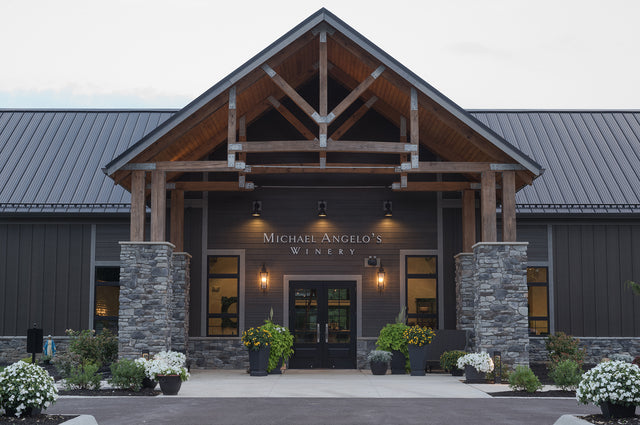 Michael Angelo's Winery Information
Know Before You Visit
We Are a Café Style Winery - Not a Full-Service Restaurant.  
Michael Angelo's Winery opened in the Summer of 2018 as a place to stop and enjoy the simple things. We offer a casual experience focusing on relaxing and spending time with good food, good wine, and good company.
How it Works:
Find a Seat

  - We have indoor and outdoor (weather permitting) seating available. Monday through Friday during the day, you are welcome to seat yourself. During evenings and weekends, our greeters will assist you in finding an open table. Please note that all guests 

must have

 an assigned table before ordering food and wine.

Order Your Food

 - Visit the Café Bar to place your food orders. You will need to know your table number to place a food order. After you place your order and pay for your meal, you may return to your table. A food runner will deliver your food to you.

Order Your Wine

 - You can purchase wine at our Tasting Bar. After paying, you will be given your wine to take back to your table. We sell wine by the bottle and by the glass. We also offer wine flights where you can try four wines of your choice. 
Please note that since we are a café-style establishment, all wine and food is pay-as-you-go, and we do not offer tabs.
Assigned Tables
Each table has an assigned number. You will need to provide your table number to our staff when placing your food order. Once seated, please refrain from switching tables to ensure your food is delivered promptly and accurately. If you switch seats without alerting a staff member, your food may be delivered in a timely manner. Please note that there is a three-hour limit on our tables.
If you are dining outside, we cannot guarantee you an inside table in cases of sudden poor weather conditions.
First-Come, First-Serve Seating
We primarily offer walk-in seating on a first-come, first-serve basis. Monday-Friday during the day, guests are welcome to see themselves. During evenings and the weekends, customers are directed to enter to check-in at the Greeters Station at our main entrance to be seated.
We can accommodate a range of party sizes, but keep in mind that our largest tables can accommodate a maximum of 10 guests. Parties with more than 10 guests will be seated at multiple tables; however, we cannot guarantee your tables will be near each other depending on how busy we are. We appreciate your patience as wait times may be longer for larger parties due to seating availability.
We offer a limited number of reservation slots each day for larger parties of 6-10. For more information, visit our reservations page.
We consider parties of 16 or more to be private events. For more information on events, visit our Private Events page, or reach out to our team at michaelangeloswinery@gmail.com.

A Family-Friendly Restaurant
Children of all ages are welcome to dine at Michael Angelo's Winery. However, there are several safety hazards throughout the winery that require younger children to be supervised at all times.  
Pet Policy
Dogs are welcome to join their owners on the outside patio only. Please be aware that in the case of sudden inclement weather, we are unable to reseat you with your dog indoors. The only exceptions are service dogs trained to perform tasks to assist those with a disability. 
Smoking and Vaping Policy

Smoking and vaping are strictly prohibited inside MAW buildings. Smoking outside is limited to certain areas on the property so as not to disturb other diners on the patio.
Lost & Found Policy
Michael Angelo's Winery is not responsible for any personal items misplaced or left on the property. Any lost items found by staff will be held for 48 hours, after which our Lost and Found will be cleared out. If you left behind any items, please call us at 440-552-2815 to see if they were recovered. If we cannot locate your item in our Lost and Found, then our staff does not have the item, and MAW is not liable for your lost property.
Thank you for being understanding, and we look forward to seeing you! Enjoy your visit!
Hours of Operation:
Monday-Thursday: 11:00am - 10:00pm (Kitchen is open from 12:00pm-9:00pm, Last call is 9:30pm) 
Friday-Saturday: 11:00am - 11:00pm (Kitchen is open from 12:00pm-10:00pm, Last call is 10:30pm)
Sunday: 12:00pm - 6:00pm (Kitchen is open from 12:00pm-5:00pm, Last call is 5:30 pm)
Contact Us:
PHONE: 440-552-2815
EMAIL: michaelangeloswinery@gmail.com
ADDRESS

: 5515 Broadview Road Richfield, Ohio 44286

Directions:

The winery is located in Richfield on the corner of Boston Road and Broadview Road, just bordering Broadview Heights. 

STAY CONNECTED: Follow us on Facebook and our Instagram page for our latest updates!