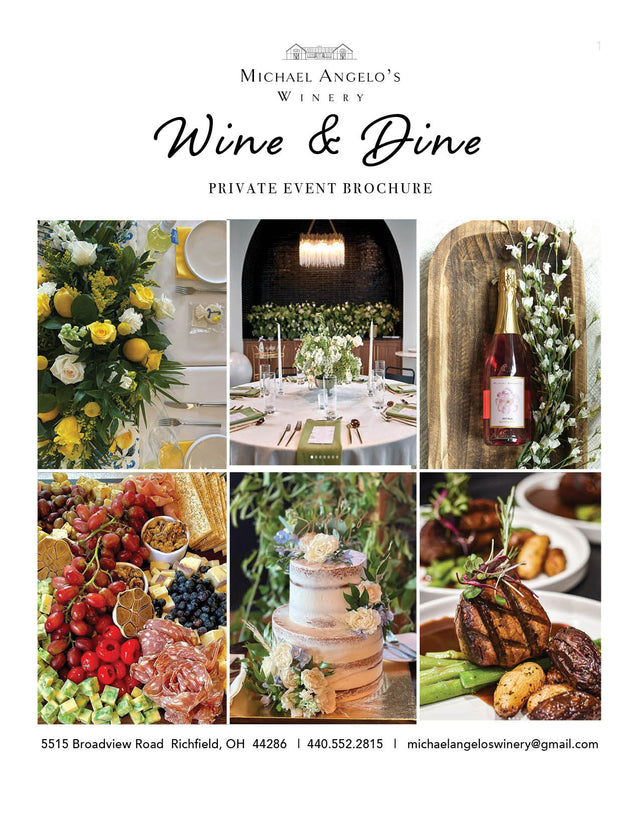 Private Events
Private Events Brochure

View Our Private Events Brochure
Our Private Events Brochure outlines all of our minimum spends, catering packages, and event policies and will help guide you through the event planning process.
We reserve the right to change this brochure at any time.
Private Event Rooms
Click here to learn more about our Private Event Spaces
Below is the general availability for our Private Event Rooms. Some of our rooms, such as our Dining Room, have special availability for Private Events that are not shown on the calendar. Contact our Private Events team to inquire about specific dates and times
| | | | |
| --- | --- | --- | --- |
| Vineyard Room | Yellow | Dining Room |  Brown |
| Toast Room | Purple | Cellar Room | Gray |
| Taste Room | Pink | Tank Room  | Green  |
Contact Our Team
Email: michaelangeloswinery@gmail.com
Phone: 440-523-8038 
Event Office Hours
Monday-Thursday: 11:00 am - 6:00 pm
Friday: 11:00 am - 5:00 pm
Saturday-Sunday: No Office Hours
If you would like to speak with one of our event staff members, call  440-552-2815, option 3, during our Event Office Hours. Voicemails left outside of office hours will be returned within two business days.
In-person meetings or viewings must be scheduled ahead of time and can be booked using the form below.
We are currently only booking events for 2023 and 2024.