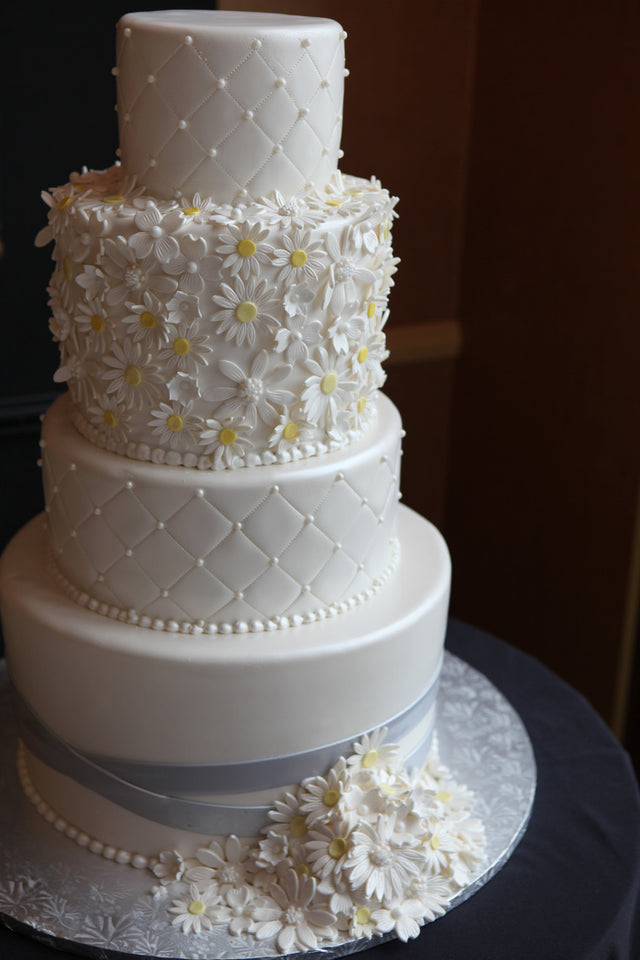 Daisies & Stitching #5Modern
Description 
This is four-tier cake is built with two tall tiers for extra height and glamor. Each tier is covered in fondant and then decorated intricately with fondant stitching, gum paste daisies, and braided fondant ribbon.
Sizes and pricing
Total price shown on buttercream-iced cakes include specialty fillings, and a buttercream filling in place of the specialty filling will lower the price of that cake. However, any cake iced in fondant includes a specialty filling in its price and will not decrease if buttercream filling is chosen. 
Most cakes can be adjusted in size in order to serve the correct number of guests. To see if the cake you are interested in is offered in another size, simply go to Cake Menus>>Cake Menu & Pricing, and refer to the appropriate menu. Once you have chosen the best cake size for your event, take the price and add on the extras listed below to find your total. 
Serves 275-285 Guests, One Size Only 
16" Tall x 12" Custom x 10" Tall x 6" Custom Round 
Extras:
Daisy Tier: $125
Daisy Cluster: $35
Fondant Stitching: $20 Per Tier
Fondant Ribbon: $25 Per Tier
Flavors
Cake flavors available include yellow, white, chocolate, marble, and red velvet. Our most popular specialty fillings are strawberry cassata, chocolate mousse, raspberry mousse, and lemon mouse. Cream cheese is also a great addition to our red velvet.