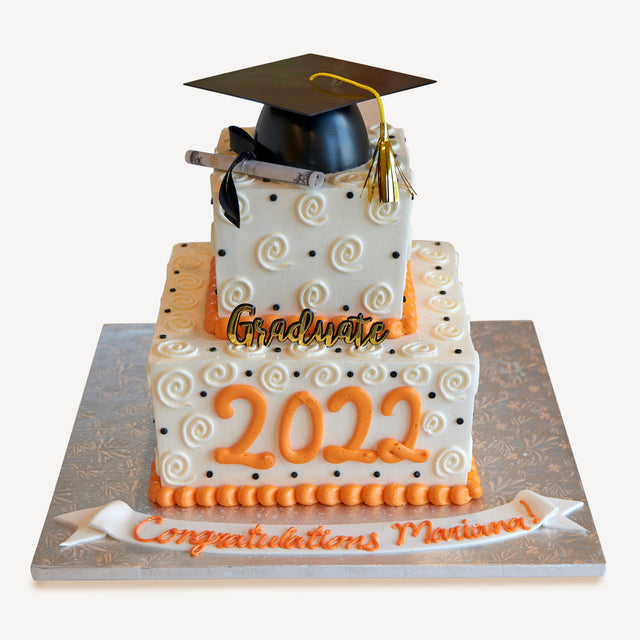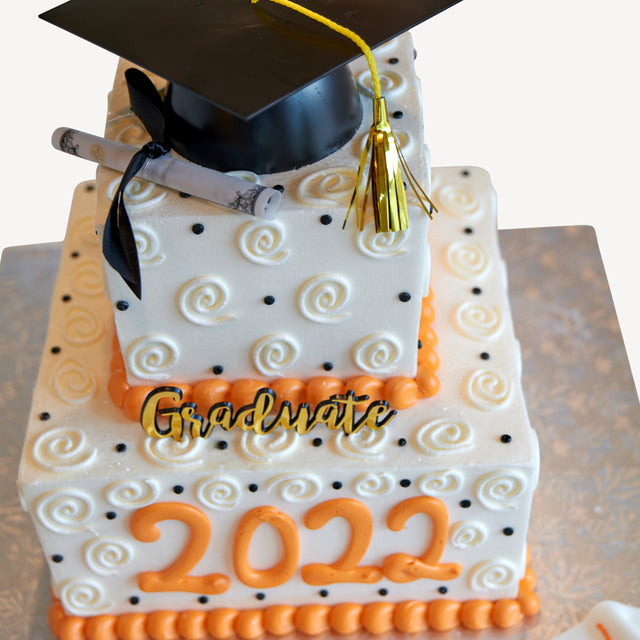 Online Cake Order - White Graduation Swirl Square Cake #98Graduation
Two-Tiered Square Cake with your choice of cake flavor and filling. Two tiers of cake covered with white buttercream frosting and decorated with buttercream swirls, borders, and graduation year. Features a fondant banner for custom wording and is decorated with plastic graduate letters, graduation cap, and diploma.Your choice of school colors.
Sizes Available
9" Square topped with a 6" Square| serves 25-35 Guests $180
10" Square topped with a 7" Square | serves 35-45 Guests $195

12" Square topped with a 8" Square | serves 65-75 Guests $260
Click here to view our current turnaround times. This cake is a Featured Tier Cake. Any orders requested in a quicker time frame that cannot be accommodated will be canceled and the payment refunded.
Once we review your order,  you will receive a fulfillment email, and your cake will be ready at your specified date and time.  If we have questions, we will contact you. Any unaccepted orders will be canceled and the payment refunded. 
The Bakery is closed on Sundays. Cake pickup is only available Monday through Saturday. All cakes needed for a Sunday must be picked up on Saturday.
This order is for Pickup Only.