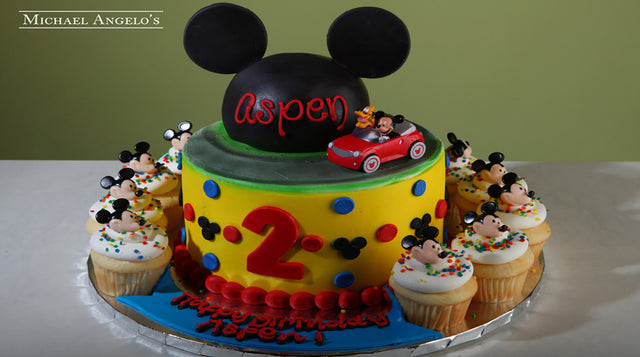 Mickey Turns 2 #165Characters
Description 
Celebrate your little one's big day with this fun design that will sure have your guests in awe! The mouse cap is made by hand and the perfect topper to any size cake. Matching cupcakes are added all around and are great for serving to young children. 
(IMPORTANT: Red Mickey car is discontinued and replaced with a new, bigger car).
Decopac Kit: Item #20683
Sizes and pricing
20-30 Guests plus 12 cupcakes (10'' Round Shown)
Mouse Cap    $25
Mickey Toy Kit subject to change   $12    
12 Cupcakes with Toy ($2.10)   $25.20
Other Sizes Available:
10-17 Guests    8" Round with Cupcakes    $127.20
50-60 Guests    12" Round with Cupcakes   $177.20
Flavors
Cake flavors are yellow, white, chocolate, marble, and red velvet.  Our most popular specialty fillings are strawberry cassata, chocolate mousse, raspberry mousse and lemon mousse.  Cream cheese is also a great filling for our red velvet cake.