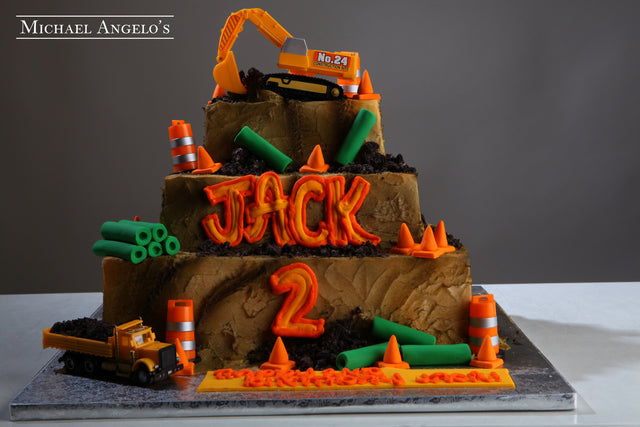 Construction Zone #176Hobbies
Description 
This three tier cake is iced in butterream and decorated to look like a construction zone. The cones and trucks are part of a toy kit. This particular cake includes a special filling only on the bottom layer. The the top two tiers are made as a single layer and do not include special fillings.
Sizes and pricing
You can adjust the size of this cake to fit your number of guests.  Simply look at our custom cake menu under the Catalogs tab.  Pick a size then add the extras listed below. 
35-40 Guests (1/4 Sheet double+ 1/8 + 1/16 double Layer Mini Present - in picture)
45-55 ppl   (1/4 single + 1/8 single + 1/16 single layer mini present)   $140
Construction Kit $20
Extras.    $25
Flavors
Cake flavors are yellow, white, chocolate, marble, and red velvet.  Our most popular specialty fillings are strawberry cassata, chocolate mousse, raspberry mousse and lemon mousse.  Cream cheese is also a great filling for our red velvet cake.