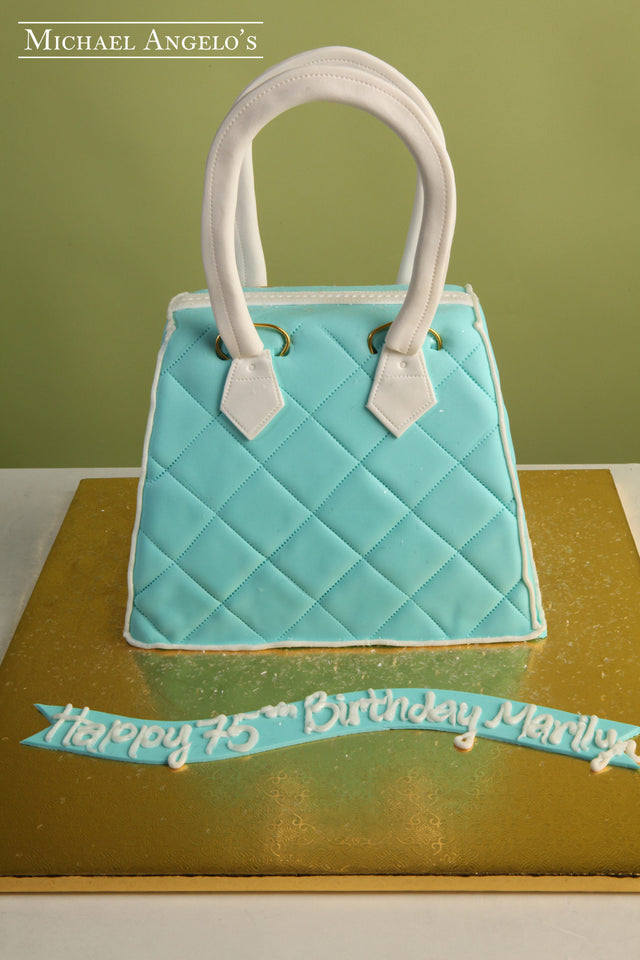 Blue and White Bag #46Handbag
Description 
This creative cake is our handbag design. It is iced with a teal stitching technique and special handles that stand up to look like the real thing, all iced in fondant. The color can be changed to match your style.
Sizes and pricing
Total price shown includes special fillings.  Purses are made with fondant icing and specialty filling. They include stitching on the fondant, stand up handles gems and initials on the side to portray a real designer bag. We cannot put designer logos on the cake. Extra charges apply for more ornate designs or gold painted items.
Handbags are made in two sizes.
 Small Purse Handle Up (shown in photo) Serves 20-25 Guests
Large Purse Handle Up  Serves 40-50 Guests  $180
Flavors
Cake flavors are yellow, white, chocolate, marble, and red velvet.  Our most popular specialty fillings are strawberry cassata, chocolate mousse, raspberry mousse and lemon mousse.  Cream cheese is also a great filling for our red velvet cake.