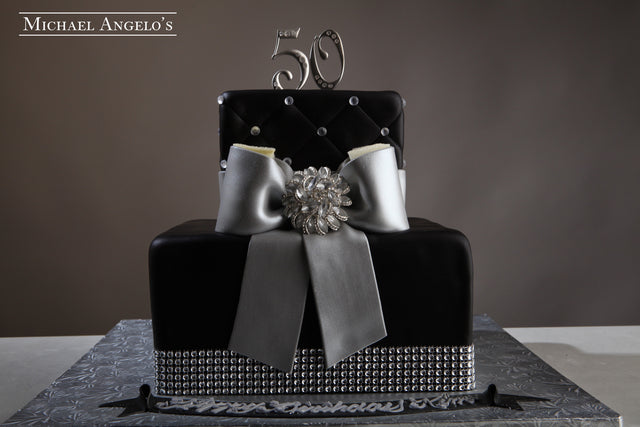 Black and Silver 50 #103Milestones
Description 
This cake is made of two square tiers that are iced in black fondant. The top tier is stitched with gems and the bottom has a thick gem ribbon surrounding. The silver bow is made of fondant and a brooch was added for a little extra sparkle. The topper adds a nice touch.
Sizes and pricing
Total price shown includes special fillings.  The price would be lower for buttercream tiered cakes if you would like a plain buttercream filling in between the layers instead of a specialty filling.  Fondant tiered cakes are the same price with or without specialty fillings.
You can adjust the size of this cake to fit your number of guests.  Simply look at our custom cake menu under the Catalogs tab.  Pick a size then add the extras listed below. 
40-55 Guests (10x7 Square Priced)
Quilting with gems  $10 per tier
Bow with Brooch $35
Topper $20
Additional Sizes Available:
30-40 Guests 9x6 Square  $220
75-90 Guests 12x8 Square $320
Flavors
Cake flavors are yellow, white, chocolate, marble, and red velvet.  Our most popular specialty fillings are strawberry cassata, chocolate mousse, raspberry mousse and lemon mousse.  Cream cheese is also a great filling for our red velvet cake.