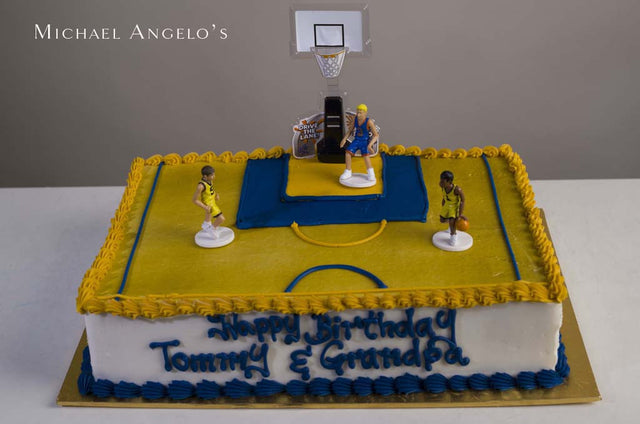 Basketball Court #350Hobbies
Description 
This custom sheet cake is perfect for any basketball player or fan. It is iced in buttercream, airbrushed and set up like half of a court. Three players and the hoop are part of a toy kit.
Sizes and pricing
40-50 Guests  1/2 Sheet Double Standard
Extras:
Basketball Toy Kit $12
Other Sizes Available:
15-20 Guests  1/4 Sheet Single Standard $42
20-25 Guests 1/4 Sheet Double Standard $56
25-35 Guests  1/2 Sheet Single Standard $57
50-65 Guests  Full Single Standard $82
80-100 Full Double Standard $132
Flavors
Cake flavors are yellow, white, chocolate, marble, and red velvet.  Our most popular specialty fillings are strawberry cassata, chocolate mousse, raspberry mousse and lemon mousse.  Cream cheese is also a great filling for our red velvet cake.